Fortune Life is totally committed to taking care of its customers, and this is especially true in difficult times such as we face now with the Covid-19 pandemic.
After the launch of our 'Safe Selling' kits last week, we have quickly followed up by increasing our Covid-19 support for customers.
From today, we are offering our customers additional Covid-19 benefits at no extra cost. Customers will benefit from a $500 cash payment if they are diagnosed with Covid-19. Furthermore, customers' families will receive an additional $3,000 if the life assured makes a claim that is due to Covid-19.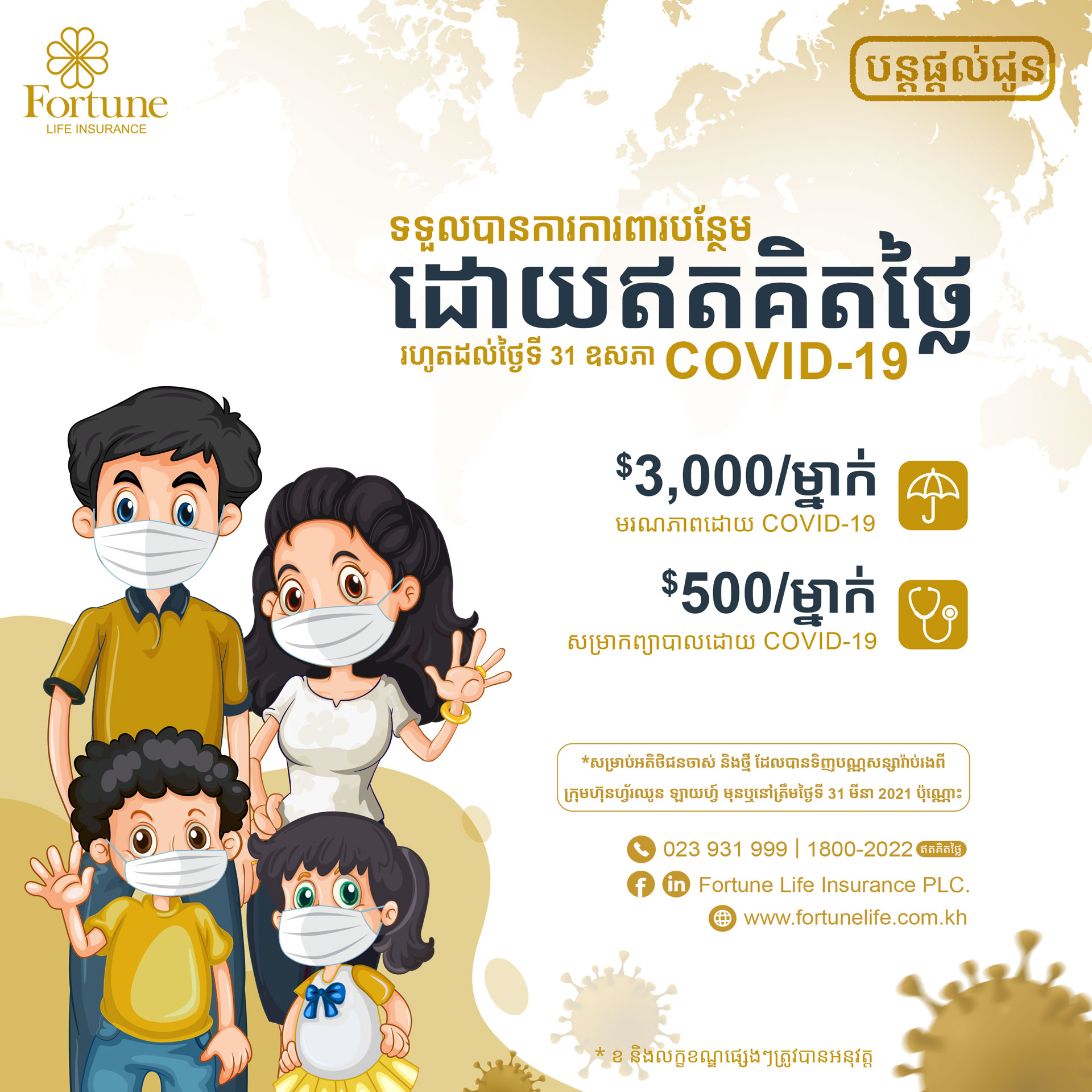 Terms and Conditions
COVID-19 Extra Coverage
COVID-19 Extra Coverage are eligible for both existing customers and new customers who bought a policy with Fortune Life Insurance PLC before/on 31 December 2020, having at least one in-force individual policy.
This special coverage period is effective from 14 December 2020 until 31 March 2021.
A 14-days waiting period is applied to these COVID-19 benefits from policy issuance date and policy reinstatement date (whichever is later).
Pre-existing condition is not covered.
The result of COVID-19 diagnosis must be from a registered medical practitioner, confirmed by local authority (Ministry of Health) and admitted to hospital for proper treatment.
For COVID-19 diagnosis or death claim, the customer or beneficiary must notify Fortune Life Insurance PLC within the period of ninety (90) days from the date of diagnosis or death and submit all relevant documents such as test result confirming COVID-19, duration of hospitalization and death certification (where applicable) certified by a registered medical practitioner in Cambodia.
The benefits are paid out only:
To customer who is admitted to hospital for proper treatment.
One time per life assured regardless of the numbers of policy the life assured has.
Fortune Life Insurance PLC shall pay only a maximum of USD 100,000 of total claims under this COVID-19 Extra Coverage.
Fortune Life Insurance PLC reserves the rights to change the Term and Conditions without any prior notice and the final claim decision is entirely at the authority of Fortune Life Insurance PLC.